As time passed, they grew less careful about their meetings, which sometimes took place in the intimacy of the Empress's chambers. One night when the Imperial Megacraft was flying over the Ganimia quadrant, the old Emperor had a rare attack of lust and shuffled into his wife's bedchamber. His hard-on was flopping absurdly like a blind worm gasping for air. He found his wife and the young Captain groaning and grunting together…
"Bastards! Bastards, both of you!" he shouted. "Treacherous bastards! A whore and a mercenary, you make a fine pair of traitors! We'll see how you fuck with your cock cut off! And we'll see how you fuck with your cunt sewn up and your tits removed!"
Helmek Varkonem picked up his gun and pointed it at the Emperor's head. For a moment his finger hesitated on the trigger. He was pointing his gun at the Master of the Galaxy, the destroyer of the planets Xaga and Dion, the builder of Ringstone…
Chance or destiny had put the most powerful man in the galaxy in his hands… It was now or never…
The girl crawls in terror to the feet of her possible purchaser. Her task is not easy. She has to make Sidi Hamet's tiny member ejaculate and then she has to swallow it all. If not, she will be cruelly flogged by the merchant who has put her up for sale. It's the normal punishment for slaves that fail the test. "Wet your lips and open your mouth wide, slave… If you do a good job I'll buy you. You'll enjoy being my slave. I'll keep you busy day and night, you'll have a great time serving your Master!"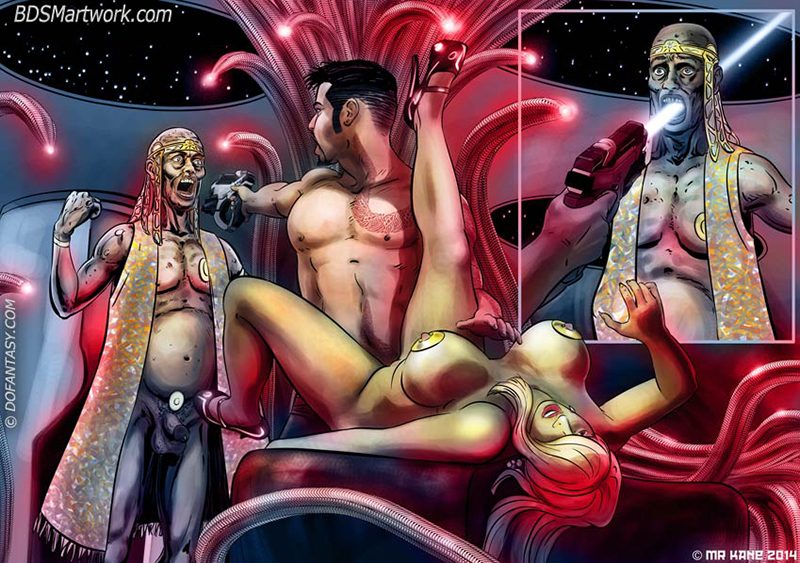 Captain Varkonem looked sternly at the Sergeant. "Speed may be important," he said. "The assassin still has the gun. Search the palace and the megacraft. She may not be alone. She may have accomplices among her own people, or even among the barons and their assessors. Wake up Chief Inspector Monsko and get him to give you a list of female Xagian suspects. We have to act quickly. The future of the Empire may be at stake."
"Yes, Sir! You men, you heard the Captain, move your asses! Find the woman!"
When everyone had left the Captain walked over to Shaliba. He pinned her hands behind her back with one hand and with the other he slapped her hard on the naked breasts, forehand and backhand, slapping them to see them move and to emphasize his words. "If you do everything right," he said, "you will have a new master now, me! But if you make a mistake, you will end your days on some floating piece of burnt rock, sucking miners' cocks!"
"You're crazy" she said, "but I will be at your side. I know which cock I want to suck."
At that same moment a girl was bending over in the garden, picking sleeping herbs for her mistress. As she stood up two guards jumped onto her and cuffed her. They took her to the interrogation room and tortured her. Her hair changed color under the punishment helmet and her nipples were subjected to a vacuum, but she could not tell them anything. She was a slave, she repeated. She belonged to Madame Flera. Her Mistress had sent to pick sleeping herbs.