Lara greeted the sunrise lashed to a tree.
She was standing this time…or as much as she could stand with one leg bent back, her ankle lashed along the right side of the tree trunk, and the other pulled wide, lashed to an exposed tree root. Her arms were behind her, sandwiched between the small of her back and the trunk, ropes encircling her shoulders and across her chest, crushing her tits. More ropes were beneath the mashed mammaries, all securing her arms, then encircling the trunk as well. Her wrists were crossed and lashed, then those ropes circled the tree trunk as well. Her mouth was packed so tightly with material from her tent, it felt as if cement had been poured into her mouth. That was anchored with more rope, then wrapped by one of her white lycra/spandex t-shirts, only tied over her nose as well. A final rope encircled the tree trunk and her throat.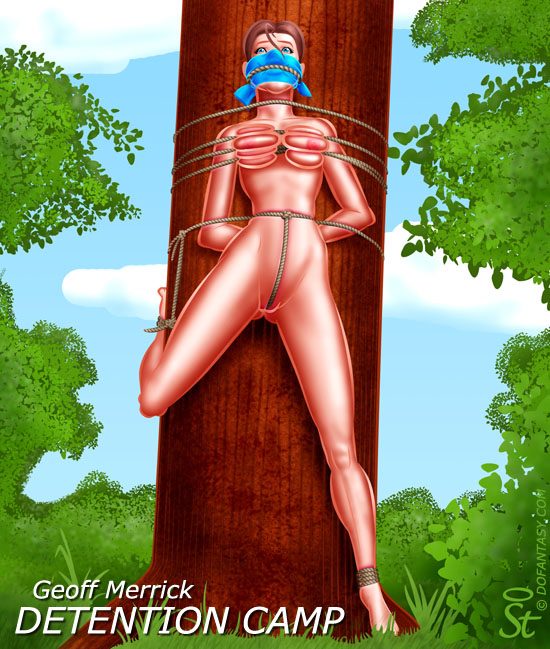 He considered the way her lower lip quivered and the way her perfect teeth peeked out from under her curved and lovely upper lip.
Only his sister heard his words. "Needs a cock in there."
Only he heard his sister's words. "In good time."
He surveyed the rest of her face…her up-turned nose…her elegant brows…her long, natural lashes…her smooth forehead…the way her hair fanned out on the sleeping bag backing.
"Nice ear," he commented in the same negligible volume. "Needs a tongue."
"First things first," she replied, silently putting down a small duffel bag and slipping a hand into one of her insulated jumpsuit pockets.
He, too, began to reach into his insulated outfit — a dark, ultramodern camping uniform of an elastic-waisted pants and tunic. "Wonder what she's wearing under there," he breathed.
"We'll know soon enough," she said, leaning closer to her, her hands over either side of the sleeping girl's head.