Poor Penelope had been walking for days. Her feet were sore, and her pussy was even more sore. Rather than leash her around her neck, the native warriors displayed a ferocious cruelty that Penelope couldn't have even imagined. After they bound her slender wrists behind her back, they pulled the loose ends of the rope tightly between her plump ass cheeks and between her delicate labia, forcing her to trot along at the end of a tight crotchrope, lest she be sawed in half!
Her entire crotch was throbbing from raw pain when the natives finally stopped by a riverbed creek. The settlement Penelope had been taken from was far, far away from the tribal grounds of the natives, and they did not give her a horse to ride on. "We don't want you defiling our noble steeds with your slutty cunny!" they laughed, mockingly. Penelope was barely conscious as she fell to her knees by the riverside bank, panting and hoarse, thirst plaguing her every gasp.
Penelope barely had time to squeak before the natives pushed her onto her back and rudely parted her legs. They pulled and prodded at her crotch and asshole, yanking aside her labia and checking the tight, puckered, brown rosebud of her ass. Even in pain, Penelope teared up at this awful violation of her most sensitive and private of places. "Yes, she is still tight, still a virgin!" one of the hunters crowed as he jammed two, calloused hands up her snatch. "The warchief will be pleased."
"Water!" Penelope croaked, struggling to her knees. "Please! I need water!" Penelope jealously gazed at the horses, guzzling water by the riverside. For her efforts, Penelope was slapped hard across the face. "You will wait your turn, white slut! We don't want you defiling our noble steeds with your slut spit!"
Only when the horses had their fill were they pulled aside. Penelope all but lunged toward the river, but she was stopped at the last second. The natives grinned wickedly. "We should cleanse the water first…"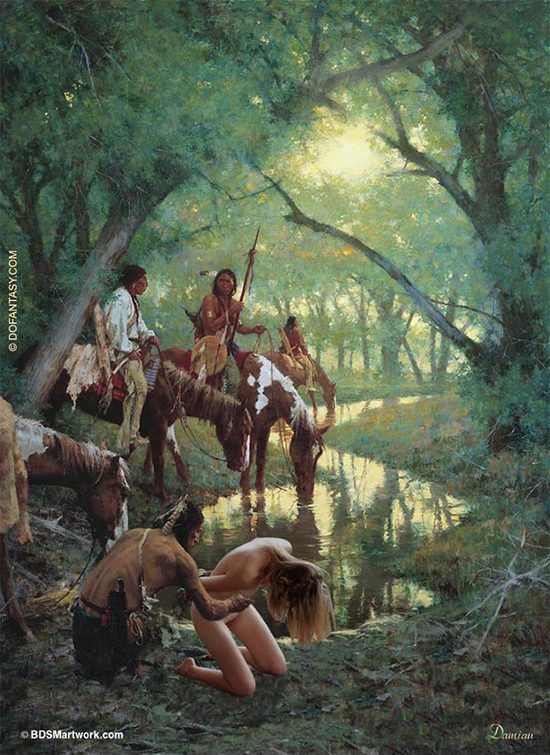 For a complete story,go here!