"Look at her, whore! Look at her or you will take her place!" Adrian slapped his nude young prisoner across the face. His palmprint was visible in red. He pulled her into him and pointed to the woman on the cross, struggling for life. He took one of the girl's firm, oversized breasts in his hands and whispered in her ear.
"You see that girl there?" he said, "Her name is Lucia. She used to be mine. Just like you are now. See the man in the red robe? He is Caesar's cousin. Caesar's cousin gets whatever he wants. If you think Caesar has a reputation for cruelty, you know nothing. The things this man does to a woman for pleasure would turn your stomach."
He called to the Legionnaire tasked with carrying out the Cousin's wishes. "Master Torturer, what are you doing to this girl today?"
The Legionnaire paused a moment. "Today my lord she is to be branded. We are warming the coals ready, but first we need to warm her flesh so I am caning her. Not much, 200 strokes today I think."
"200 strokes!? Has the master gone soft?"
Caesar's cousin turned, he looked terrifying, like the devil himself. Then his eyes widened and he laughed. "Soft? Haha! On the contrary Adrian, this is only her first day on the cross. She will be here a week. Every day she will be whipped, but every night her wounds will be dressed and she will be given water and a fine meal. So she will not die, but her whole body will be racked with pain from the position it is now in. Then we will take her down and I will see if she is more… accommodating of my wishes!"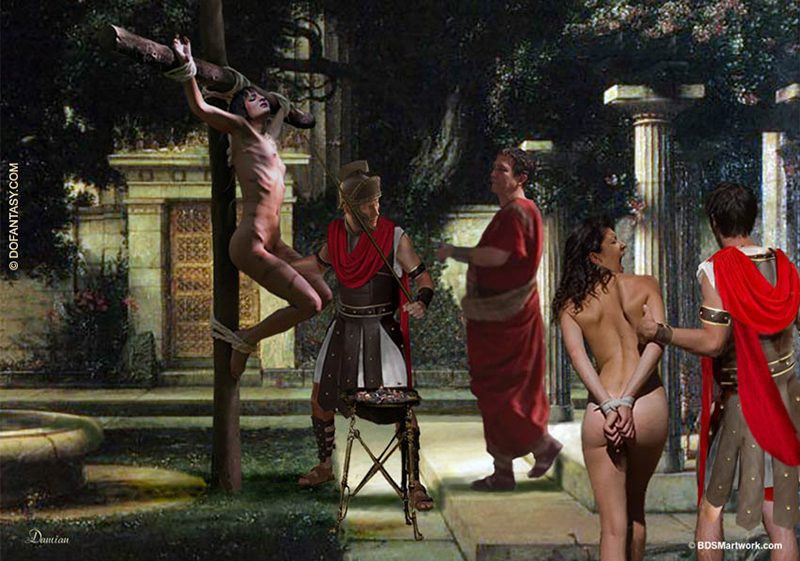 For a complete story,go here!