Matthew Kenny was just a quiet kid living in the suburbs, starting small but dreaming big. But he gets in over his head when he owes money to the dangerous mafia don, Tony Scaletta. Tony arrives in the dead of night in a shining limousine, a gorgeous exterior hiding the twisted man inside. Tony and his men break down the door and threaten to cut down poor Matthew Kenny, as an example to all the debtors who might think of leaving Tony Scaletta holding the check…
That is until Matthew's mother, the gorgeous Elena, hears the commotion. Straight out of the shower and into the frying pan and the fire! Mother and son wait in anxious fear, but it turns out Matthew's friends aren't as fast as he would've liked. Someone will have to pay that money back… and if nobody can pay the money, well, Elena could certainly serve as a "down payment"… to help her son pay for the interest, after all…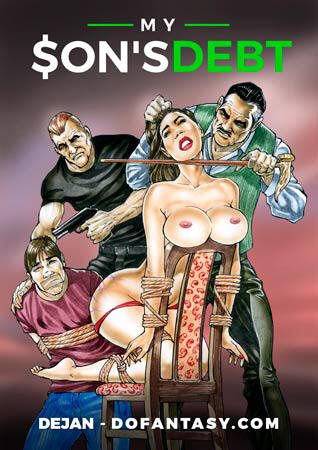 For a complete story,go here!