The darkness of the night covered the Crawford Mansion in its veil except for a tiny beam of light zipping through the curtains from one of the small windows in the attic. Peter had turned on every gaslight in the punishment room to have a better look at Anita.
"You said you would take any punishment from me -or whatever I decide to do to you if you will be allowed to stay, didn't you, Anita?" Peter walked slowly around the naked girl, enjoying the lush, feminine contours of her healthy, young body. The breasts stood firmly and lustfully out with the nipples erecting hard in full size, the white bare flesh of her belly moving with every breath. Anita's narrow waist widening downwards into the broadening hips and full sized buttocks certified that she had long ago transformed from a young girl into full womanhood.
"Well, didn't you?" asked Peter again, now standing close in front of her.
"Yesss…ssSir…" Anita hissed, her heart beating fast.
When Peter had switched on all the bright lights in the room after Mrs Brunell had gone, displaying her nakedness in full, the embarrassment had caused her goose skin all over her body. And worse, she felt the tingling heat building up between her legs increase when she almost felt Peters eyes focusing on that particular part of her body. She could feel her moisture smearing her inner thighs all the way down to her knees.
Even if Anita had closed her eyes she knew that Peter had moved behind her. The strap around her heck prevented her from twisting her head and look back, but her senses were alert when she suddenly felt Peter touching the bare skin of her waist. A nervous quiver followed by an immediate rising of goose skin soon covering her entire body, she sighed loudly with a hissing sound.
"Anita, ever since I saw you at the water well I have thought about you quite often," Peter confessed while he was moving his hands upwards to Anita's chest.
Her reaction was spontaneous, but her desperate effort to escape his obvious intension to touch her bared breasts was useless. Anita tried to free her hands, writhing her upper body like an eel, but she only hurt her thumbs. Realizing that she was not able to prevent him from touching her bared breasts, a series of cold shivers run down her spine and her nipples grew hard as raw, big berries.
"HHHHH…hhh… Please… no Sir… noo…", Anita whispered as his hands cupped her firm breasts, exploring, caressing her gently.
When he started to roll her hard nipples between his forefingers and thumbs, Anita begun to squirm and her fast breathing hissed through her nostrils.
"HHHhhhhiiiii… hhhhhii…" she hissed. Anita had never been touched like that by any boy before, and the deep crimson color in her face showed that in normal circumstances she would never have allowed any boy to fondle her tits the way Peter did now. Anita considered her breasts as a very intimate and sensitive part of her body, but there was nothing she could do to prevent this. In spite of the humiliation and shame to be treated like this, she also realised that other feelings were about to take over. When she squirmed and rugged her thighs together, she could feel the lubrication of her slippery moisture running down her inner thighs, but there was nothing she could do about that either.
"HHHHHH hhhh …Please… nooo " Anita had kept her eyes closed during her ordeal, but now her eyes suddenly opened wide up and her face got an expression of panic as she could feel Peter's hand traveling gently downwards over her naked skin. She begun to twist and wriggle her body in all directions, crossing and clamping her thighs tightly together when Peter had moved his right hand down over her belly and was touching the harsh, curly pubis hairs. Her legs started to shake when he forced one finger deeper down and felt the pulsating moisture in her clit. In desperation Anita tried once more to free her hands from the restraints when Peter pinched her left nipple with his other hand but there was no escape.
"Hhhhhhhooo… hhhhh…" She panted again when she could feel his finger move inside her slippery, wet clit and all muscles in her body, from her toes to her fingertips, strained into a trembling mass of white flesh. The sensational feeling -a mixture of the ultimate humiliation and the tingling heat between her legs- caused her involuntary memories of the times she had been masturbating behind the fence to the Crawford estate, and those flashbacks of memories just made her juices in her young pussy increase to the point from where there was no return. Peter continued to move his finger inside her, and she could not prevent her thighs from rubbing and pressing together in a most exiting manner.
"Hhhhhhhhhh…hhhhhh…", she uttered, feeling the broad leather collar forcing her to keep her head up. With her arms and hands immobilized, Anita's naked body was totally displayed for Peter's exploring hands, and at the very slightest movement of his finger, long quivering spasms and shivers run constantly through her young flesh.
When Peter suddenly withdrew his finger, letting it glide along the hardened clitoris, Anita's whole body started to vibrate uncontrollably. The blood pulsated hot through her veins, and she knew that if Peter would continue to finger her dripping clit, she would have an orgasm within seconds. But he removed his finger.
Oooh, my God…don't stop n o w !, she wanted to cry out in her state of heat as the spasms of her young, hot urge made her flesh writhe within the bonds.
"Hhhhhhhhh…hhhhhhhhhh…" Anita panted, biting her lover lip.
"Wow…you are quite a hot and wet one, you slut! But I like it", Peter said smiling.
"But you are not here in this room for pleasure, you are here to be punished for disobedience!"
"Hhhhh hhhh…", Anita still gasped, left there in a turmoil state of mind on the border zone of a rising orgasm that never was to be culminated.
"I think I must tie you legs so you don't kick me,", Peter said picking up a strap with a buckle. Kneeling down, he passed it twice around Anita's ankles, around the high heeled boots she still was wearing. Then Peter rolled down her stockings all the way down to her ankles caressing her long, shapely legs…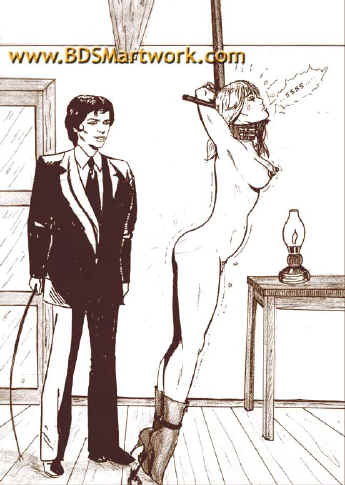 Pamela's swelling buttocks filled tightly the white batiste knickers which were quite small for a lady of her age. They were high fashion from Paris with rose colored ribbons and strings around the waist and the thighs. When the guard started to undo the strings, the flesh beneath the thin material seemed to come alive in a very curious way and Pamela's scarlet face flung up, her desperate eyes looking for the Bailiff.
"Please, in the name of decency not…this oh Sir not with the men looking oh… noo!" Pamela was trembling from head to foot when her bottom was bared. The white flesh of her buttocks were quivering involuntarily, and the mere thought that she was now shamefully exposed in front of Mark Fallon and the other men sitting right behind her, made her well spread and swelling buttock cheeks clench violently. The guard removed her knickers completely.
"What a magnificent arse!" In her turmoil state of mind Pamela could hear the comments from the men, and some additional, violent clenching movements of her bared buttocks made the men laugh.
"Oohh Sir…please…do it quickly…I cannot bear this shame!" Pamela whined in her desperation.
Meanwhile the guards had fastened the ropes to her ankle straps, one to each ankle.
The base of the block had two iron rings in each corner, and Pamela was to be birched with her legs drawn wide apart so that the sting of the birch twigs could freely bite into the most sensitive areas of a woman's anatomy. This was the way women were punished by the birch in the House of Corrections.
The fact that when the thighs were parted wide open, the woman had no chance to cover or protect herself against the eager eyes behind her as the most intimate parts were shamelessly exposed in a most indecent manner in front of everyone. Pamela Wright was a tall and strong woman who tried to avoid this ultimate humiliation by clinging and crossing her thighs together in an inhuman effort and state of panic, when she suddenly realized that they were going to spread her legs open.
Even if the guards were strong, they had to use considerable force to have Pamela's legs parted and her ankles secured to the iron rings.
"Hiiii… hhhhiiiii…",Pamela breathed heavily as the muscles in her thighs and calves trembled and twisted in her futile attempts to break loose and hide herself from this ultimate indecency. Despite her almost inhuman efforts to prevent this Pamela's thigh were opened, exposing a very wet clit with the tiny hairs before the eyes of the flush faced spectators. As the ankle ropes were tightened also her tight pussy lips opened up and revealed a rosy and moist portion of a most female, intimate anatomy. In her turmoil state of mind Pamela Wrigth could almost feel Mark Fallon's eyes on her wide open pussy, a fact which made her clitoris to stand vigorously out like a hard pearl and some hysterical, short laughter escaped her lips.
The Bailiff took his time and let the men enjoy the scene, the jutting and quivering bared flesh of the beautiful, lustful woman with her buttocks held high over the punishment block and her long, beautifully shaped legs straddling wide open.
The men were all sitting there staring at the spectacle when the Bailiff gave one of the guards the order to fetch the birch.
In the bucket was several birches, seven or eight long, well selected switches tied together in bundles. The guard selected one of the bundle, an excellently prepared, long swishy birch.
Pamela had from her degrading, frustrating position seen the guard select the birch, and when he approached her, the trembling in her body increased. The trembling in turn affected the inner parts of her thighs, which were slightly fat and as tender as the skin of a baby, for they were quivering involuntarily, the flesh actually shaking like jellies.
Whether it was due to the acute feminine realization of how keenly she would soon feel the sting of the birch or the long period of awaiting in this humiliating position, or her attempts to minimize her position, the men sitting closely behind her could not tell.
However, as the guard swished the long birch-rods through the air, the lady made great effort to squeeze the cheeks of her large well rounded bottom together. She could not, however, succeed very well, held tight and bent over the block, and the great nervous expenditure involved caused her bottom to visible quiver and tremble in a most delicate manner.