In another of his horrid games, Bruno decided to pit the girls against one another. "The one who lasts the longest without screaming gets eaten out by the loser." Brenda had gone first. She lasted 48 seconds while Bruno stood on the balancing beam which crushed the wind out of her lungs and her breasts into the rough cement floor. Heather's spirit was completely broken, she'd been with Bruno longer. She lasted 56 seconds. Brenda, having lost, was made to kneel while Heather stood over her with her legs spread. "Suck that twat bitch," Bruno yelled as he began to whip Brenda's naked back and ass. Now broken to obey, Brenda pushed her mouth against Heather's muff and, amid sobs and tears, managed to make Heather squirt cum into her mouth.
"That's a good girl Brenda," said Bruno as he slid his greased prick into her cunt, "We know you're a good fuck-slave, but are you a beast of burden, too?"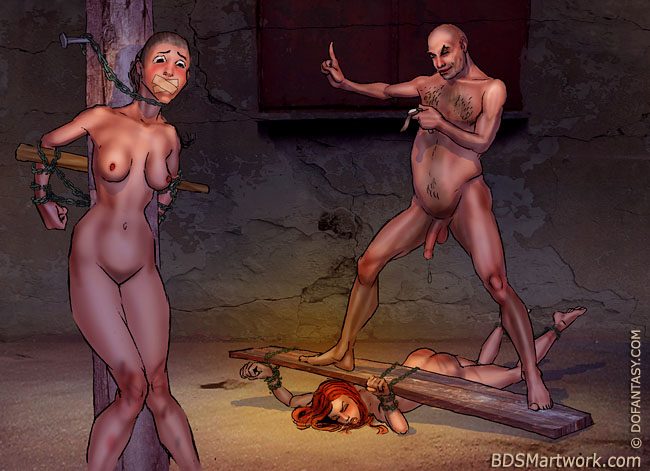 Heather was forced to watch as Brenda entered a new phase of her training. "Seems your new sister ain't limber enough to please me. By the time I'm done stretching her out, she'll be able to lick her own ass like the dog she is. But for now Heather, you're gonna have to do it for her."
Without a word, the red-headed slave crawled forward and buried her moist pink tongue into Brenda's asshole.