Of course, Lord Caine had his own needs to attend to. The latest shipment of "fresh meat" had arrived, a trio of young ladies whose spendthrift father had sent their estate into debt. The Lord Caine had "generously" offered to relieve the estate of its debts, so long as he was recompensed in "other ways." Suffice it said that a rival baron, seeking to claim the estate for his own, was not too broken up about selling his rivals' daughters into sexual slavery! The low baron got the father's estate, and the Lord Caine got the debtor's precious daughters…
"Will this one do, milord?" one of Lord Caine's slavegirls, ever marked by her mobcap and nakedness, asked while raising an ashamed daughter's petticoats to reveal her tight ass and young, lovely holes! The poor girl let out a soft cry of shame. "Please, my lord! Please don't! Don't you have any decency?!" she shouted impetuously! "Please! I'm the Lady Claudette! You can't do this! My father was a decent man! Please!"
"Be quiet!" Lord Caine shouted. "Clearly your father did not teach you manners! But that suits my needs fine. I prefer to train my own slaves. I prefer them fresh!" the Lord Caine said, his mouth twisting into a wicked smile. "I think we have a nice assortment of well-worn dildos that will quiet this slut and teach her the meaning of submission! Girls, take this one to the dungeons to start her training! She will serve nicely while she can. Your name, 'my lady' is no longer Claudette but Cuntmuncher! Learn your name well, otherwise you will learn to fear the crack of the riding crop instead!"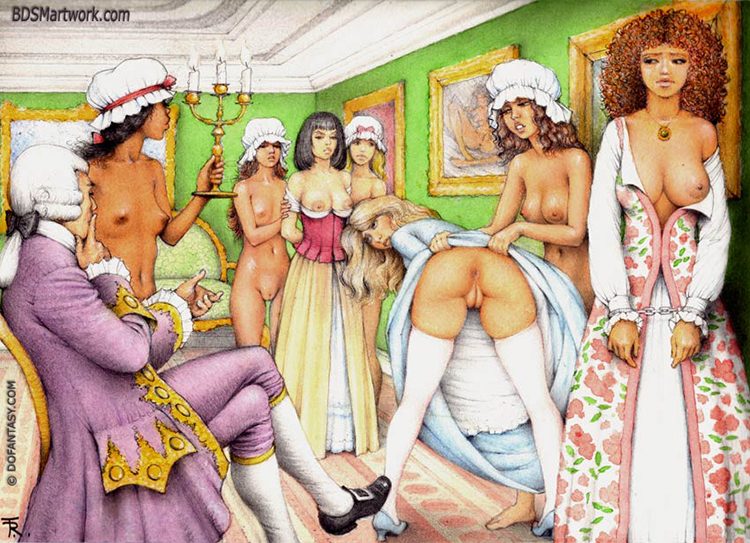 For a complete story,go here!