"You should really quit smoking, Judy," said Derrick.
She looked at him, pleading to be let go. This had already gone so much farther than she expected.
When Derrick suggested they try some BDSM role-play, she'd thought he meant they'd buy some fuzzy handcuffs and add some spankings to sex. She'd also naturally assumed she'd be the one spanking him.
But once Derrick had her tied up and gagged, he seemed to get very…into it. He was laughing and throwing her around the room. He seemed much more confident and sure of himself than she'd expected him to be.
And then he took her downstairs and began to chain her up. Where had all these chains and equipment come from? There was some kind metal pipe he was dragging over, with a…what was that?? It couldn't be! A monstrous dildo.
The thing was horrific; long and thick with big nobs all over it. It was the biggest dildo she'd ever seen. Judy was convinced there was no way it would fit into her tight little pussy. She worked hard to keep it that way, with kegels and infrequent sex. Derrick was a big guy, after all, and she couldn't let herself get stretched out with him. So they only had sex once or twice a week.
Derrick noticed the apprehension in her eyes and knew what she was thinking. She was too damn proud of her precious pussy. But the dildo wasn't going there. It was going to go the one place he'd never been allowed to; straight up her virgin ass.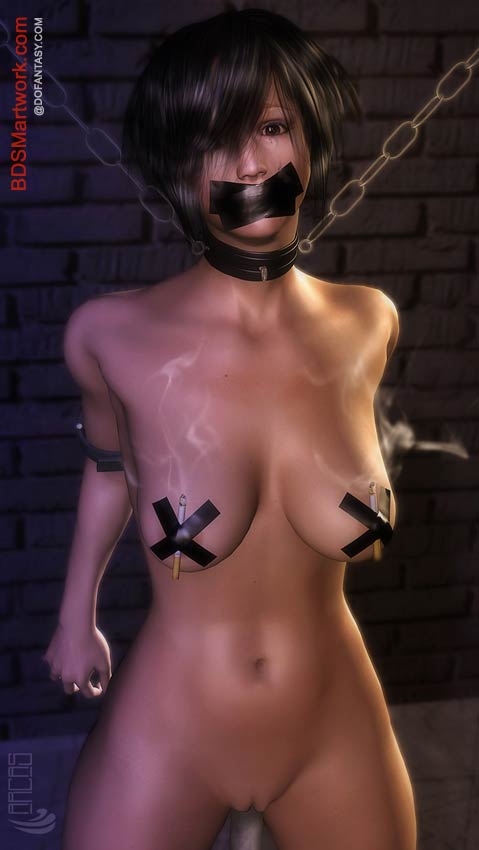 They called her the Praying Mantis.
She was one of the best in the business, using her body to seduce the men she needed information from, then mercilessly killing them when they served their purpose. She preferred beheading; it was a swift and brutal way to get the job done.
She'd been in Bogota, working the head of a large drug cartel when she'd been caught. Quite literally working the head, in fact; his cock was buried in her throat when the Capo's men had burst in and grabbed her. The Capo had been pissed that his time with his new mistress had been interrupted; he'd been livid when he had found out who she really was.
The Capo was known for his brutality towards traitors. The Praying Mantis knew she'd never leave his compound alive. What was unknown was how much she would suffer before he finally killed her. The Capo was not a stupid man; he would milk all the intel from her he could before disposing of her.
She'd been in this chair for two days. The pressure in her head was increasing incrementally; the torturers were being very slow, very methodical with this torment. Occasionally, one would come around to the front on the chair and play with her, tease her. They'd caress her tits, pinch and roll her nipples and trail their fingers down her body. They would almost, but not quite, touch her pussy.